Once again, I would like to thank all who pray and support the work here in New Brunswick Canada, which is very liberal and tolerant towards sin. We are truly blessed by God through your prayers and giving. I would like to give an overview of God's work here, specifically looking at evangelism (engaging people boldly and compassionately with the gospel of Jesus Christ), and some of the genuine conversions we have seen. There have been multiple conversions in the past 13 years since the plant began. Some of those, have already gone on to be with the Lord. Please keep in mind, the town we live in is just a little over 750 people. There are two neighboring towns on each side, with around the same size population. These are logging communities.
I will begin with a man named Winston, who was put in the hospital last week after suffering a stroke. His wife is a believer. He dropped her off and picked her up from the church, but he himself never attended. Many pastors over the years have been intimidated to talk to him on account of his directness. I went to see him in the hospital and asked him if he knew the Lord. He could not talk, but nodded his head in a very harsh "no"! I asked him if he wanted to know the Lord, and again he harshly shook his head "no"! I got down and whispered in his ear, that he should want to know the Lord, for he will be standing before him in a few days, and will give an account for his life. I shared the gospel with him a few times very plainly. His countenance changed from being brave to having godly sorrow, which led to his repentance and faith in Jesus Christ. He died in peace three days later. I have had with several of those types of experiences over the years.
In November 2013, another young lady named Melita (now my daughter-in-law) was on her way to another church before deciding to stop at our church that Sunday. She came under strong conviction of the Holy Spirit that morning and realized that she was a false convert. She was gloriously converted. As a result of her conversion, 4 months later, her brother was also born again (now my son-in-law). Their uncle Dave, when he saw the change in their lives, realized he too was lost. He came to Christ in June of 2014 on a Friday, and his wife Rhonda was converted the next day. They had been attending our services for about 4 weeks when this took place. Dave's son and daughter Cassidy came to Christ within a few weeks after that. As a result of this, Melita's grandfather Winston was also awakened. Then her mother Angela was converted the next fall, followed by Angela's father Glenny.Then Cassidy had a strong witness to her other grandfather. I too went to him several times. He was a very hard man, but after sharing the gospel with him for several months, he too was converted. He has since gone to be with the Lord. Finally, in the last year, Melita's father Ritchie has also been truly converted. I will baptize him and others very soon. At least 7 of those converted in this family were previously convinced they were heaven-bound, when in fact they were lost. Praise be to God!
Last summer my wife Lisa and I went to a local restaurant, and I witnessed to a man named Peter for over an hour. I saw him a week later and reminded him of our former conversation. I prayed urgently for him for a week. The next Sunday he showed up to the church service. Five weeks later, he was gloriously converted, and like the others, he continues to walk with Christ and boldly declare what Christ has done for him.
Back a few years ago, I witnessed to a lady named Liane, along with her two children Brett and Jonah. After a year and a half of me and other brother speaking truth to her, she repented of her sin and believed on Christ. She has faithfully been devoted to Him since.
A few years back I stopped and talked to a lady named Patricia. I stopped only to ask her about her brother, was but at the time she looked broken. I asked her if she knew what Christ had done for her, and shared the gospel. She was broken. A few weeks later she responded to the gospel and has been faithfully following Christ ever since.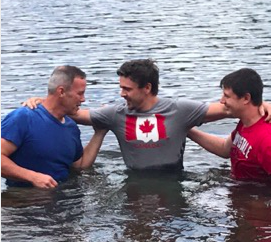 These are people who we prayed for their conversion daily, we witnessed to them repeatedly and begged them to repent and be reconciled to God through Christ. Many times, it was in tears. We keep the language very plain, very direct and repeatedly visit them- some for as many as 10 years. Mitchell was one of those men who I witnessed to regularly and prayed for, for 10 years. He was converted on a Sunday two years ago when Mack Tomlinson was preaching at our church. His wife Anita was converted a few months before. They are both walking faithfully and serving Christ. By grace, Mitchell's father and mother were both converted through this ministry over 10 years ago!
Another guy, who professed to be born again, was helping me put up sheetrock in our newer facility. After hearing bro Paul Washer's "Shocking Youth Message" three times in a row, around the hour of 2:00 am, he looked at me and said he was lost. He was gloriously converted. Several years ago, another young woman named Beth, started coming to the church. At the end of a church service, she cried out that she wanted to be saved. I immediately started discipling her, and her live-in boyfriend, who was the father of their two children at that time (they now have 4 children together). During a period of nearly 20 weeks, he was also converted. She had no further union with him until after his conversion, and they were married. They are both faithful followers of Christ, and are training and instructing their children in the ways of the Lord. There are several others as well.
I have been training Rob Greenwood, who we are hoping will plant a church in Miramichi City soon, Lord willing. We go to several people each week, pray for them, and constantly plead with them to repent and believe the gospel. We go until they are either converted or tell us not to come back.
Once again thanks for letting us be a part of HeartCry, for your prayers and financial support have been real God sends to us here.
In Christ,