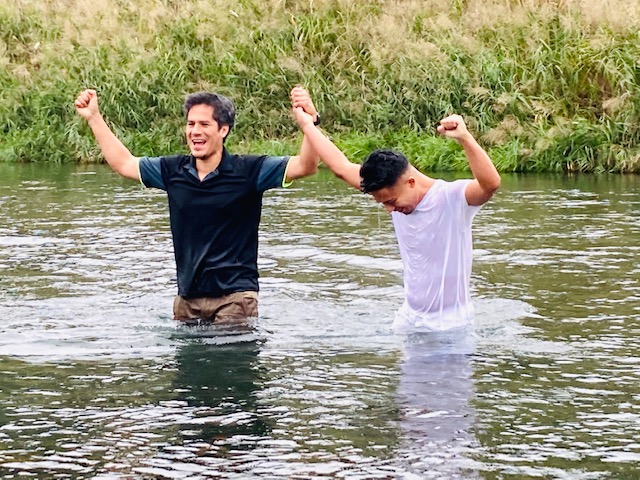 Dear brothers and sisters,
Praise God for reconciling us to himself through Christ and for giving us the ministry and message of reconciliation. Paul gave us a great example to reconcile the lost with Christ and brothers like Philemon and Onesimus. When the world tells us that the only option is to take sides, divide and separate. Let's remember that there is the option to become peacemakers through God's truth and live working and praying that through the power of the Gospel, we will see reconciliation between the lost and Christ and, if necessary, among our dear brothers.
Winter Baptism!
Praise the Lord for finally blessing us with the opportunity to baptize a dear brother. He was supposed to be baptized a while ago, but it was postponed as he felt ill with coronavirus, and also there were public spaces restrictions and states of emergency. Finally, all our church went to the river to celebrate our brother's baptism. Our baptized brother shared his testimony that day, and it was a blessing for all the church and guests to hear how our Lord saved him from a false profession of faith. He told us that he was affirmed as a Christian as a child without even understanding the Gospel. After living a sinful life apart from God, he came to our church in need of answers, and that was the moment when he heard the Gospel for the first time and surrendered to Christ. Now he is being trained in teaching the Bible to our children, serving the church, and helping us to reach people at the hospitals in need of Christ. Please keep praying for his growth in the Lord.
Cancer
Ten years ago, I spent four months giving bible studies in a hospital to a Bolivian grandmother diagnosed with cancer. In the beginning, there was tension in the family because some didn't want me to share the Gospel with her or talk about sin and the need for repentance. Finally, for the glory of God, the grandmother decided and told everybody that she wanted to hear the truth. She repented of her sins and believed in our Lord's Gospel. We spent the last months of her life studying who is Christ, heaven, and eternal life. Last month, I received a phone call from this grandmother's family asking me to share the Gospel with a Japanese friend. We started to pray for him with our church, and we contacted him. Sadly, he rejected all offers of help and didn't want to hear about Christ.
But we are continually praying for him and planning to send him a letter with the Gospel written through his friend. Please pray that our Lord will make a miracle in the heart of this man and will open the doors to his only hope, the Gospel of Christ.
Homeless
Praise God that we now have a team of church members helping with this ministry during the year. This ministry has blessed us with the privilege of sharing God's word and meals with the homeless under a bridge in Shibuya and helped our church have order while serving. For some years, people from our church wanted to serve in the homeless ministry, but I always told them that they needed to start serving their brothers and sisters at the church. So today, the members of our homeless team share the blessings of going out to help the needy, knowing that they are already serving and loving their church. Please pray for all Christians in the world to not skip serving their own family but follow Jesus' example, He didn't just care about the lost outside, but He washed the feet of his church.
Thank you always for your prayers, encouragement, and support.
In Christ,
Luis, Nicola, Rohan, Lorien & Erendir